We have been busy in English lessons developing our knowledge of how to persuade readers with rhetorical questions, emotive imagery and the use of imperatives. Take a look at our leaflets advertising Virgin Galactic space flights which show off our impressive IT publishing skills whilst trying to persuade you to part with £200,00 for a flight. (It is a bargain as you get a £1million view in space!)
In science, we have successfully worked in groups to accurately produce scale models of the solar system using our math's measuring skills. Look how big the Sun is yet Earth is only 3 mm on this scale!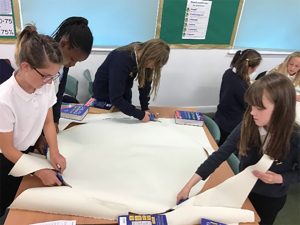 In Forest School, we have been experimenting with tarpaulins: building our team work and communication skills as we carry each other and also using the tarps as parachutes to consider how space ships might use them to return to land. We have found out about forces and air resistance.
Continuing the space theme in Art, we have experimented with paint to create constellations and galaxies using bubbles!
We are currently composing planetary music in response to Holst's Planet suite.. .How would Neptune sound to you?  We are using keyboards to create texture, ostinatos and crescendos.  The finished pieces and accompanying explanations will be uploaded soon.