A focus on science and art this week.
Maths for week 10 Is all about scaling.
In the real world, architects and engineers make scale models of buildings and other projects so that they and their clients can imagine what the life-size building will be like.
Some people make model trains and planes which are the same in many details as the real life thing, but are a fraction of the size. Scale models of film sets are sometimes made to give a director an idea of how the life-sized set might be made. Maps are a bit like a scale drawing of the landscape, where each distance on the map is a fraction of the distance on the ground. A 1:50,000 means 1cm on the map is really 50, 000cm or 0.5km in reality!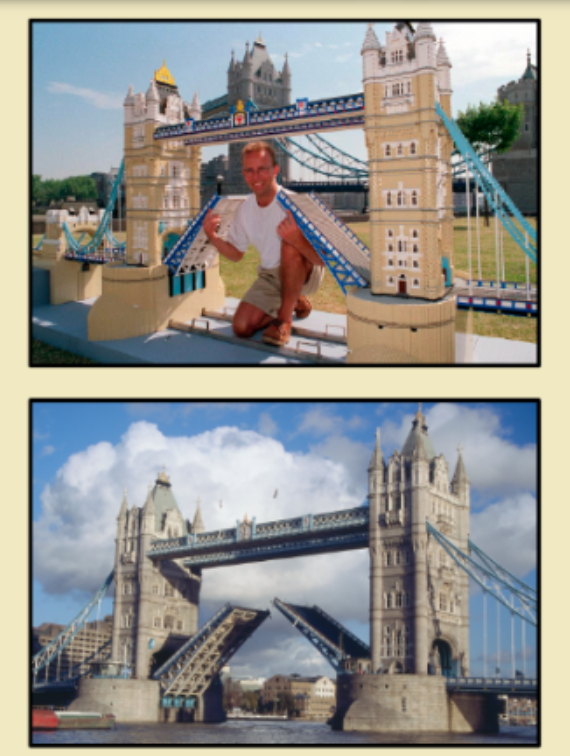 This shows a scale-model building next to the real life-sized building .You can see the details of both and compare.
Task 1 Scaling dinosaurs.
Task 2 Tall towers "builds" on solving problems with scale
Task 3 and 4
You are going to design the ideal bedroom, and make a scale model so that you can see what it would be like.
The life-size room will be 4·2 m by 3·3 m by 2·4 m high. What the dimensions of the scale model will be is 1/10 of the real size . So the room will be 42 cm by 33 cm, and 24 cm high. You need a cardboard floor and wall this size.
YOU can decide what to put in the room. Since everything in the model is one tenth of its actual size, you will have to divide the length and the width of every piece of actual furniture by 10 to get the size you need to make it from cardboard. (cereal boxes are ideal)
You could also plan a window. Remember to leave space for a door.
You can use the furniture sheet to work out model sizes- divide everything by 10 so that 1.8m high wardrobe will be 18 cm high made from card board ( 180cm /10) Or measure your own. How about a four poster bed or a jacuzzi in there????
Task 5
You have been "scaling down" things using division or "scaling up" by multiplying
The "rate" something gets bigger by ( increases) uses multiplication. This powerpoint to explain rate will help – try to work out the answers before clicking for them!
Have you mastered this topic? Try these questions to check: mastery checkpoint Working out rates It looks like this: There are answers to mastery sheet too. Let me know how you did.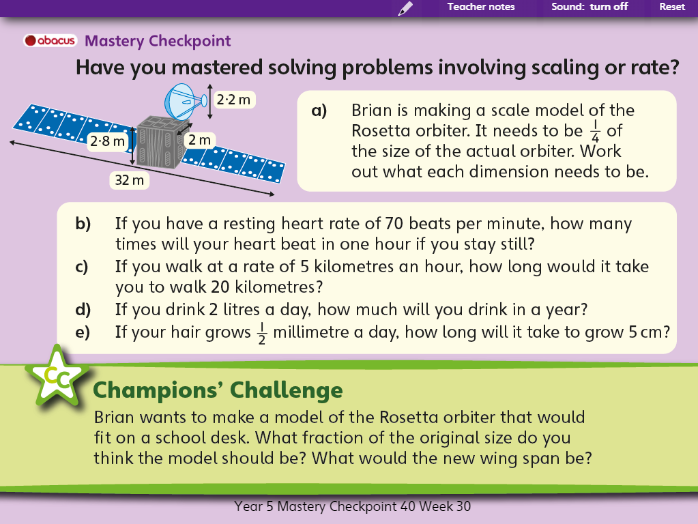 English 1
Reading comprehension- layers of the sea
Choose between Layers of the ocean harder and layers of the Ocean easier. Mark your work and tell me how you did. Remember to refer to the text.
English 2
Glitter worm comprehension – scroll to the end to mark your answers and tell me how you did. Remember to quote the text.
English 3 Developing your vocabulary and reminder about word classes
You need to have looked at "Deep sea animal adaptations" see below to create a word bank of Deep sea Words to help with writing for next week and build your vocabulary. Use the powerpoint and the two reading comprehensions from previous tasks to choose challenging/ new vocabulary about underwater exploration. I have started you off: 40 marks- but only for challenging/ new vocabulary for next week's TV advert task………..
1.Ten adjectives: extraordinary
2 Ten verbs: to plunge, to submerse
3 Ten nouns: abyss
4. Five adverbs: e.g extremely
5. Five other new words from the Deep Sea work:
English 4 Reminders on spelling with prefixes and suffixes
Take words from yesterday and add prefixes or suffixes to make new ( real) ones. Make sure you spell them correctly!!! Adding an "s" or "ed" is not much of a challenge is it? e.g Do 5 words and do one of the websites below.
abyss- abysmal, abysmally
Maybe you have to take the prefix/suffix off e.g extraordinary – ordinary, unordinary, extraordinaire
This is a reminder about "tion" suffix: https://www.bbc.co.uk/bitesize/topics/zqqsw6f/articles/zcb8k7h
https://www.bbc.co.uk/teach/class-clips-video/english-ks2-wonderful-words-prefixes/zknd7nb
Here is a list of 90 prefixes and what they mean- in case you were stuck for ideas!!!
English 5 More spelling rule reminders:
https://www.bbc.co.uk/teach/class-clips-video/english-ks2-wonderful-words-suffixes-part-1/zdnd7nb You could go on to look at the part 2 -4 too. I love the little guy made from letters. Can you draw one?
How about an online quiz: https://www.grammarbank.com/root-prefix-suffix.html
Science–
Ocean layers
If you have done the reading comprehension from English 1, this layers of the ocean powerpoint will be a re-cap. Make a large diagram of the layers of the ocean and label it- in each zone, put an animal with its adaptations and what a human would be able to do at that depth- swim, dive, submarine….? You can use this ocean depths sheet as a starter, but you might want to draw it bigger, or copy the powerpoint slide.
Deep sea animal adaptations.
We are going to be exploring the depths of the oceans using material from the Necton project which is currently researching the Indian Ocean. Go through the powerpoint exploring the deep ocean 1 – and watch the introductory video on the project . Then click on the buttons to get links to amazing photos of sea creatures. Answer these questions:
Why should we explore the ocean depths? Three reasons
What is the weirdest animal adaptation in the deep sea you found out about today and why- draw it if you like! Use these weird and wonderful deep sea animal cards to choose from- if you have lots of printing available and some card you could play top trumps with these…yuk!
We will be doing more on submarine design next week.
Science /Art
Try to do at least two of these activities this week: ( Submarines are next week- focus on underwater animal life this week!)
1.Wax crayon/water wash art: If you have wax crayons, draw an underwater scene with large fish and seaweed/ submarine/ ( I just watched Dory) and then with very thin blue paint wash it over the top.
2. Can you make a 3 D model of something in the ocean. ( Don't do submarines though – that is for next week!)
3. Collage found materials- tinfoil, clingfilm, cutup magazines paper, wrapping paper into small strips to make a collage of under the sea. You could focus on one fish/animal or do a whole underwater scene
4. How about an aquarium scene on your window?
5.Turn a shoebox or a large cereal box on its side as a mini aquarium/window into the ocean to make a 3D look – type: shoebox diorama ocean in the search engine for ideas.
Coding/IT Music
I don't see many in the gallery on the discovery coding site which have been done by our class recently- you need to make sure they work. Or can you compose a piece of underwater music on tutti/garageband? Send it to me if you can!