Dear Parents and Carers,Here is this week's home learning, History and Science. Thank you for all of the wonderful work being sent in.
Science – Water use in your home
Spellings – Topic Vocabulary
History – Viking SettlementThe Vikings settled in England; their territory, the "Danelaw", is pink in this map showing the country in AD 878. As you can see, Norfolk was in the Danelaw.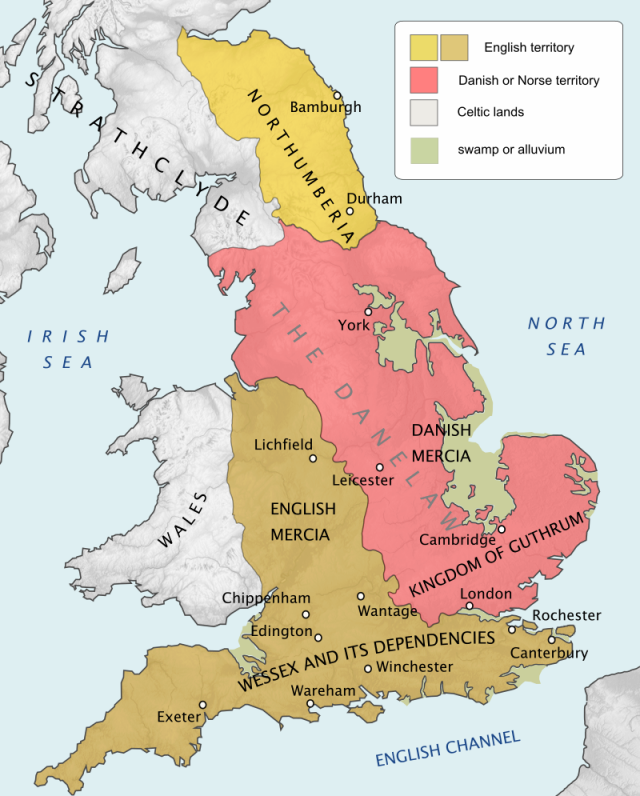 One way we know where the Vikings settled is in place names. See the list below of Viking place words with their English meanings. If we find places with these names, they were probably Viking places. For example, Harrogate in Yorkshire has "gate" in it, the Viking word for "path" or "track".
Map TaskObjectives:- Understand the pattern of settlement of the Vikings- Use a map as a source of historical information- Understand that place names can tell us about the past
Look at a map of Norfolk and see how many Viking place names you can find. As always, you can be as creative as you wish in how you present your learning. (We had our first puppet show last week! Have a look on our class page of the school website. http://www.salhouseschool.co.uk/2020/05/danegeld-to-pay-or-fight-back/)
VIKING PLACE NAMES
Below is a list of Viking words which have become part of our language. They are found in many English place names.
Which can you find in a map of your area?
barrow = small hill
beck = brook or stream
blea = blue
by = farmhouse or dwelling
crag = rocky cliff
dale = valley
fell = mountain, high grazing
garth = fenced land or garden
gate = path or track
gill = ravine or deep cut in the earth
holm = island
how =hill
ing = meadow or pasture
keld =cold
kirk = church
knott = rocky hill
pike = mountain peak
rigg = ridge
saetr = cow pasture or high ground
scale = hut or shack
tarn = pond
thorpe = hamlet, village
thwaite = clearing
toft = homestead
ton = hedge or fence; later a farm
water = lake
wath = ford
(-ton and -ing are Anglo-Saxon as well as Viking)
History Extension Activities
1. Why did the Vikings come to Britain? (Were they "pushed" away from their homeland or "pulled" by the lure of Britain?) Use this BBC video to help you.
https://www.bbc.co.uk/teach/class-clips-video/history-ks2-the-vikings-animation/zhrygwx
2. What is the difference between Anglo-Saxons and Vikings? They both came from the same area, so why do we give them different names?