Have a look around our wonderful Virtual Library and let the staff and students of Salhouse read you a story!
A message from the Headteacher
I feel very privileged to be the Executive Headteacher of Salhouse V.C. CofE Primary School; to be responsible for the school's welfare, education and happiness is something I will never take for granted. Every decision that is made is for the benefit of all our children and this enthusiasm and vision is reflected in everything we do. We want Salhouse to be a happy and safe community where everyone enjoys a love of learning. Our Christian values of respect, responsibility, courage, compassion, trust and perseverance are at the heart of our school community.
"Soar on wings"
"They will soar on wings like eagles;
They will run and not grow weary,
They will walk and not be faint"
Isaiah 40:31
We often hear staff, parents and children say 'our school feels like a big family' which is a reflection of the cooperation, team spirit and acceptance that we seek to promote.
We really value high quality teaching and learning for children and are, therefore, keen to embrace new initiatives to encourage our children to put maximum effort in everything they do. We are proud of our curriculum that promotes inclusion and encourages creativity, recognising that children are individuals and respond differently to different tasks.
Our staff, governors, parents, carers and the wider community work in partnership to ensure that our children receive the best possible education, enabling them to develop academically, spiritually, emotionally, socially and morally.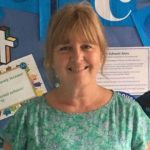 If you would like to find out more about our school, please contact us. You will always receive a warm welcome.
Julie Church
If you need a paper copy of information on this website, please contact the School Office.